Freestyle - Create Your Own
Add a portrait, Logo or illustration!
Colourway - Create Your Own
Cut & Sew - Create Your Own
Design the material yourself!
For more bespoke customs, get in touch and we can work with you to create your dream kicks! We'll also create you a mock up design which you can sign off before placing your order. These are the perfect gifts from Birthdays to Weddings (or for yourself of course)!
Need some helping designing it? Get in touch!
Yes, we provide mock ups for you to approve before customising for a non refundable deposit of £30. This deposit will then be deducted from your final payment when you place your order.
No, but a fully formed idea would help, or please send us any of the below:
Images
A theme
Idea of base shoe
Colour palette
Anything we've previously made
Our customer service team are at hand to guide you through your order.
There isn't much that we can't do! It can be as little as a name or logo, all the way to patterns, assets and highly detailed portraits.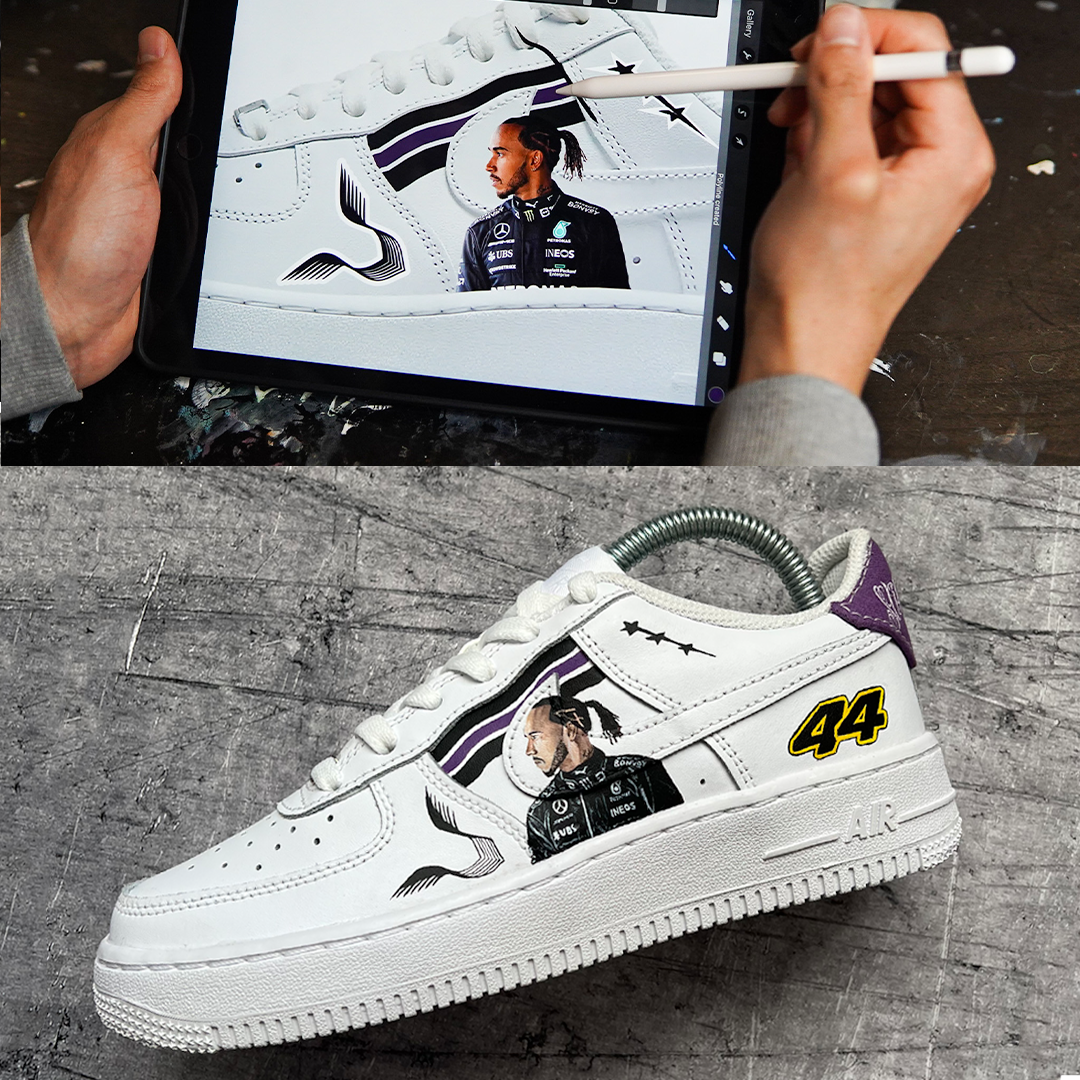 *Please read the description before purchasing* 

Do you have an idea or concept but cannot create it using our website customiser? 
We offer a mock up service for a £33 non-refundable fee, this way we help you design your dream custom. You give us the references, images or words and we build it into a design for you!
Once you have received a mock up of the idea you can then make changes / revisions to the design up to 2 times.

If you would like to go forward with an order, purchase the £33 non-refundable deposit below. Then please send us an email (info@mattbcustoms.com) or Instagram DM (@mattbcustoms) to discuss your design! We will then create a mock up for you to sign off. Once the design has been confirmed, we will send over an invoice for the final payment. 
The mock up cost is then deducted from your order total!
Paint is crack and water resistant and 100% wearable.
*In no way affiliated with the brands used*
Whether it's for a wedding, a gift, a pair to go with an outfit or just want a pair of shoes no one else has got? We got you!
Wedding Customs
We have created a variety of custom sneakers for Brides, Grooms and whole wedding parties! We can create designs to match your colour scheme as well as incorporating memorable illustrations, dates or names to give you a one of a kind keepsake from the day.
Hand Painted Portraits
Our skilled artists can recreate an image or logo directly onto your shoe, from your favorite music artists or band to a portrait of a relative or dog.
Business Branding?
Do you have a small business or want to add company branding to a pair of sneakers? We have multiple mediums in which we can do this for you including bulk orders!